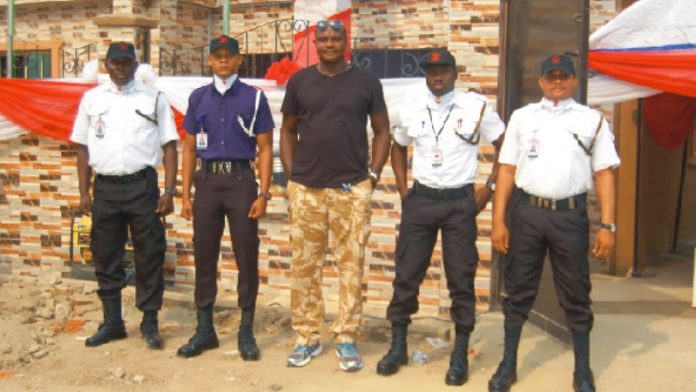 History was recorded, when Strict Guards Ltd a network security outfit opens her corporate Head office, situated in Surelere, Lagos.
Established as a child of necessity, the aims of the organization among others are geared towards recruiting, training mentally and physically fit men and women in a bid to beat the gar created by the police authority in security maintenance.
The outfit registered in Nigeria as a privately owned security organization, under corporate and allied mattes (CAMA) is saddled with training and recruitment of staffers, sales and installation of security gadgets, providing security guards in private homes and offices, body guards-personal or special duty, defensive and piloting drivers, and sales and maintenance of security equipment.
In addition to providing security system Strict Guards maintains dragon base innovation whereby staffers are trained by refined military offices and graduates from the school are known to be experts.
The company operates on twenty-four hours schedule – Night and day while she carry out inspection of client's premises and making recommendation based on opinions collected from individuals and corporate bodies.
In summation of the event that heralds the official opening of the Head office the director, Dr. hinye Efoziem highlighted among others companies eg Royal Exchange Plc, Optimal Specialist Hospital, De Tastee  Fried Chicken Ltd, Seaba Christian Model College Akure, The Cecyville Group of Schools, Fidelity Bank Plc; Adic Insurance Ltd, have benefited from the wide range of security network provided by Strict Guards  Ltd to making living standard meaningful to average and wealthy Nigerians.